Michigan's Premier Environmental Microbiology Laboratory
State-of-the-Art Technology. ELISA-based or molecular-based next day test results.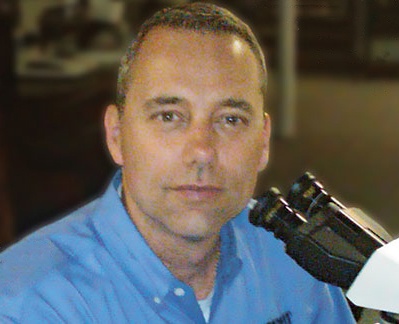 Thomas Krueger, President
Summit Laboratory, LLC
 Founded in 1999, Summit Laboratory brings the "Fusion of Science and Service" to the Great Lakes region. At Summit, we continually strive for excellence through our exacting standards in scientific analysis and quality, as well as our dedication to personalized attention and competitive prices.
Summit Laboratory is the first organization in the U.S. to receive accreditation for Environmental Swabbing from the A2LA. This is in addition to two other accreditations recently earned for Listeria spp. Testing and Salmonella spp. testing from Solus. Read the full story.
As an A2LA certified ISO 17025 accredited* laboratory, Summit is proven to have a world-class quality management system. Partnering with us means you'll always receive data and documentation considered traceable and more defendable.
And because the ISO 17025 accreditation requires continual improvement through regular internal audits and adherence to the latest scientific and technological advances, you can rest assured that your samples are always at the right certified laboratory.
*See our Scope for a list of accreditations
We Strive for Excellence Every Day
Efficient, affordable, quality analysis is only the beginning of the services Summit Laboratory provides. We pride ourselves on the relationships we establish and grow with our customers. We begin by working with you to identify your testing requirements and follow up with an explanation of the results of our analysis. We put the needs of our customers first and are committed to your complete satisfaction.
Our Scientists
We are a team that is truly passionate about what we do. Each of our scientists holds a degree in their area of expertise and brings years of experience and continuing education into each analysis. While that's not guaranteed with all testing laboratories, we think it should be. Because at Summit, we understand a crucial part of quality analysis is accurate interpretation of the data. We provide these services with state of the art equipment that allows expedited results at prices competitive with industry standards.
Summit Laboratory specializes in servicing the following areas: 
Food Safety
Facility and Equipment Environmental Monitoring and Training
Water Testing
Mold Testing
Pharmaceutical Testing
Third-party Product Testing and Claims Verification
QUALITY ASSURANCE PRACTICES
Summit Laboratory's philosophy puts customers first. This means we must adhere to strict laboratory testing techniques and protocols that ensure correct and reliable data. To put it less scientifically, at Summit, we pay the utmost attention to quality control methods that enable us to not only obtain our certified laboratory status, but to stay abreast of changing regulations and methods of data collection as well.
QUALITY LABORATORY PRACTICES:
Usage of only AOAC, FDA & USDA standard certified methods
All samples are analyzed by professional biologists
Certified quantitative and qualitative standards are routinely tested with samples
Disposable pipette and plating equipment is used to help eliminate cross contamination
Documentation of laboratory cleaning and sanitizing procedures
Inter-laboratory quality assurance ensures precision and accuracy of routine data
Continued employee education and training via college classes (Including classes at McCrone Research Institute), workshops, seminars, webinars, and conferences
GRAND RAPIDS LABORATORY
Summit A2LA ISO 17025 cert and scope valid to May 31, 2025
SUMMIT LABORATORY LLC
900 Godfrey Ave SW
Grand Rapids, MI 49503
Thomas Krueger
Phone: 616.245.3818
tomk@summitlaboratory.com
BIOLOGICAL
Valid To: May 31, 2025 Certificate Number 3136.01
In recognition of the successful completion of the A2LA evaluation process (including an assessment of the laboratory's compliance with the A2LA Food Testing Program Requirements, containing the 2017 AOAC International Accreditation Guidelines for Laboratories Performing Microbiological and Chemical Analyses of Foods, Feeds, and Pharmaceutical Testing), accreditation is granted to this laboratory to perform the following tests on food products and environmental swabs: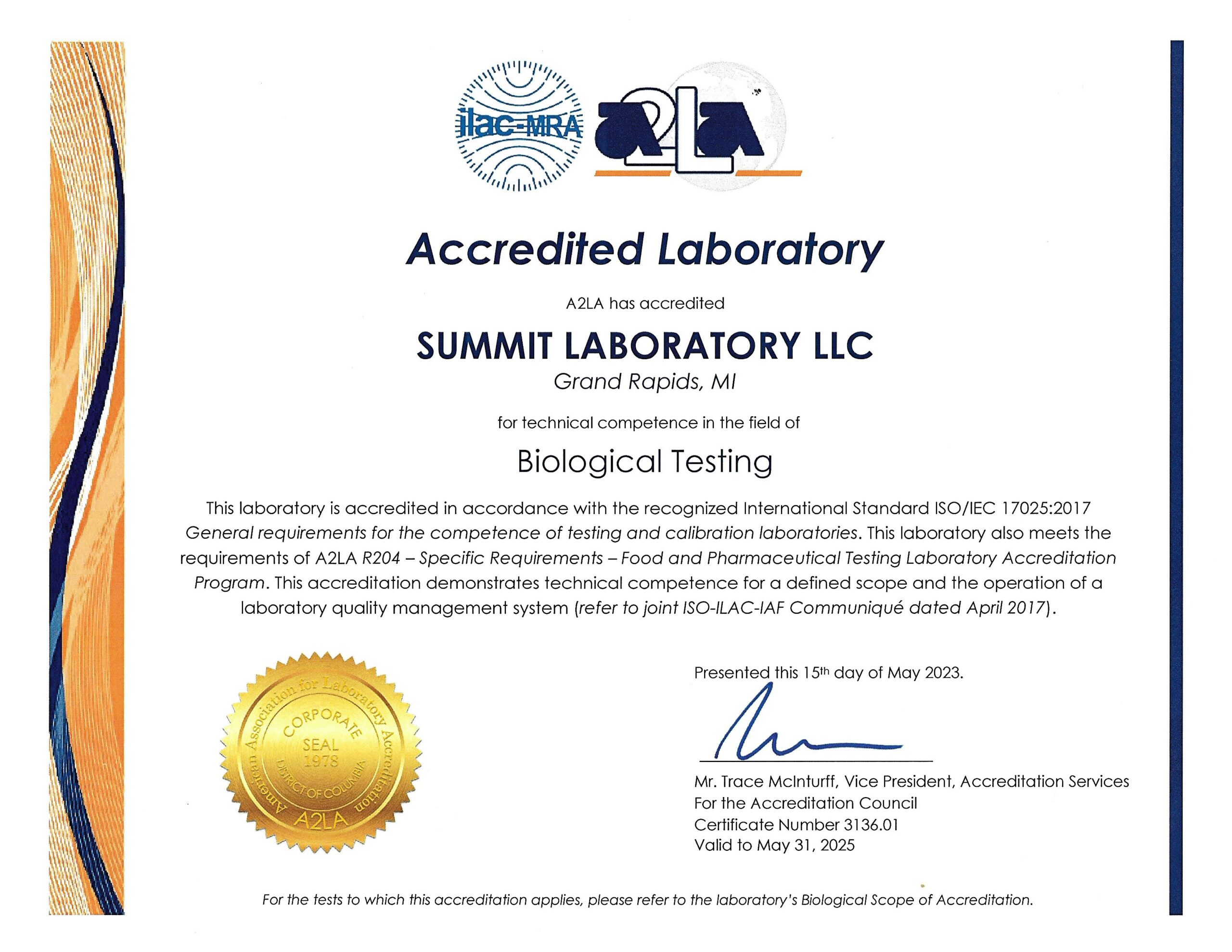 | Test: | Test Method: |
| --- | --- |
| 3M Petrifilm Aerobic Count Plate | AOAC 990.12 |
| 3M Petrifilm Coliform / Escherichia coli Count Plate | AOAC 991.14 |
| 3M Petrifilm Staphylococcus aureus Express Count Plate | AOAC 2003.07 |
| 3M Petrifilm Yeast and Mold Count Plate | AOAC 997.02 |
| 3M Petrifilm Rapid Yeast and Mold Count Plate | AOACÂ 2014.05 |
| 3M Petrifilm Enterobacteriaceae | AOAC 2003.01 |
| 3M Petrifilm Lactic Acid Bacteria | AOAC 041701 |
| BioControl ELISA Salmonella | AOAC RI 010602 |
| BioControl ELISA Listeria | AOAC 996.14 |
| BioControl ELISA E. coli O157:H7 | AOAC 996.01 |
| 3M Molecular Detection Assay 2 – Listeria monocytogenes | AOAC 2016.08 |
| 3M Molecular Detection Assay 2 – Listeria spp. | AOAC 2016.07 |
| 3M Molecular Detection Assay 2 – Salmonella | AOAC 2016.01 |
| 3M Molecular Detection Assay 2 – E. coli O157:H7 | AOAC 2017.01 |
| GDS/PCR Listeria spp. | AOAC RI 070701 |
| GDS/PCR Listeria monocytogenes | AOAC RI 070702 |
| GDS/PCR Salmonella spp. | AOAC 2009.03 |
| GDS/PCR MPX Top 7 STEC (Includes E.coli O157:H7) | AOAC Cert. 071301 |
| Chromogenic Agar – E. coli O156:H7 | AOAC Cert. 060701 |
| Chromogenic Agar – L. monocytogenes | AOAC Cert. 030406 |
| Chromogenic Agar – Salmonella | AOAC Cert. 050701 |
| Environmental Swabbing | ISO 18593 |
| Isolation of Listeria spp. and L. mono. for Confirmation | FDA BAM Chapter 10 Method |
| Isolation of Salmonella spp. for Confirmation | FDA BAM Chapter 5 Method |
| Solus One Listeria | AOAC-RI 051802 |
| Solus One Salmonella | AOAC-RI 101801 |
This accreditation covers testing performed at the main laboratory as well as the satellite laboratory listed below. (A2LA Cert. No. 3136.01) 05/31/2025
HART LABORATORY
Summit A2LA ISO 17025 cert and scope valid to May 31, 2025
SUMMIT LABORATORY LLC
1535 Industrial Park Dr.
Hart, MI 49420
Thomas Krueger
Phone: 231.873.1432, x227
tomk@summitlaboratory.com
BIOLOGICAL
Valid To: May 31, 2025 Certificate Number 3136.01
Test:
Test Method:
3M Petrifilm Aerobic Count Plate
AOAC 990.12
3M Petrifilm Coliform / E. coli Count Plate
AOAC 991.14
3M Petrifilm Staphylococcus aureus Express Count Plate
AOAC 2003.07
3M Petrifilm Yeast and Mold Count Plate
AOAC 997.02
3M Petrifilm Rapid Yeast and Mold Count Plate
AOACÂ 2014.05
3M Petrifilm Enterobacteriaceae
AOAC 2003.01

3M Petrifilm Lactic Acid Bacteria

AOAC 041701

BioControl ELISA Salmonella
AOAC RI 010602
BioControl ELISA Listeria
AOAC 996.14
BioControl ELISA E. coli O157:H7
AOAC 996.01

3M Molecular Detection Assay 2

Listeria monocytogenes

AOAC 2016.08

3M Molecular Detection Assay 2

Listeria

 spp.

AOAC 2016.07

3M Molecular Detection Assay 2

Salmonella

AOAC 2016.01

3M Molecular Detection Assay 2

E. coli

 O157:H7

AOAC 2017.01

Chromogenic Agar – Listeria monocytogenes
AOAC Cert. 030406
Chromogenic Agar – Salmonella
AOAC Cert. 050701
Chromogenic Agar – E. coli O157:H7
AOAC Cert. 060701
(A2LA Cert. No. 3136.01) 05/31/2025
AFFILIATIONS & MEMBERSHIPS
A2LA Certified/IS0 17025 accredited*
HACCP certified managers on staff
SQF 2000 certified practitioners
Certified microbial investigators
ACAC certified microbial consultants
State of Michigan (MDEQ) certified for drinking and irrigation water analysis
State of Michigan Department of Environmental Quality Remediation & Redevelopment Division certified for: total coliform, E. coli (See Certification), nitrate nitrogen (See Certification)
Certified mold investigators and mold consultants
McCrone Research Institute trained in: Indoor Air Quality:
Fungal Spore Identification
Forensic Dust Analysis